The big day is getting ever closer. Every year I say the same thing 'how on earth did that come round so quickly?' I don't know about you but for me it just seems that the months fly by quicker. Work, family, life just goes from 0 to 60 in seconds, and everything flashes by, that the first time I properly stop for Christmas, is on Christmas Day. But this year, something happened that made it really feel like Christmas. We've had snow, bring on the mulled wine and mince pies!
Waking up last Sunday there was an eerie silence. It's bizarre, I hadn't opened the curtains, I hadn't even considered venturing out of bed, but I just knew that it had snowed. Peering out of the curtains and seeing the 4 inches of snow on the window sill was a quite surprise; part of me wanted to curl back up under the still-warm duvet and the other part of me was feeling a little bit festive and in need of a cosy winter's day baking fix. My mother on the other hand, who had left the 18deg of Spain and landed at Birmingham the night before, was dragged out into the snow at 7am by my very excited 6 year-old nephew.
Seeing the photos and video of Louis and Nanny Maz in the snow reminded me of Christmas with my Granny Violet, and conjured fond memories of late night baking sessions of 100s and 100s of scones and mince pies for my school annual Christmas Fair. Freshly baked from scratch and all lined up on the work-surfaces cooling, ready to boxed up and off to school the following day. The Christmas Fair at school always signalled the start of the build up to the big day. The smell of baking was fabulous but I swear the sight of all those mince pies put me off them until recently, when I rediscovered how much I liked them… so long as there's no nuts!
Anyway, back to the snow…
So with the snow, memories, and admittedly a sneaky jar of mincemeat that I picked up on the weekly food shop the day before, it was into the kitchen I went for a spot of home-comfort baking and the smell of mince pies to really kick off the festive frivolities!
I have been known in the past to make my own mincemeat, but with the 'snowed-in' status and the impulse bake meant the jar would have to do. It wasn't half bad to be honest and had a pretty good kick. On the other hand my pastry is from scratch, and I'm one of those people who has permanently warm hands; not the greatest for working with pastry, but even worse for sugarpaste. Sticky! I muddle through; really cold butter helps as does a food processor for the 'rubbing-in' stage. Okay, so these are turning out to be pretty lazy mince pies, especially as my Granny didn't have the luxury of a Magimix so the pastry for 300 or s0 mince pies would have all been handmade. Sometimes a little cheat or a helping hand along the way isn't such a bad thing.
All things aside, these are pretty simple and quick to make, even Ely, my nephew's Elf on the Shelf can make them. So there's still a week to go, why not try them out.
Print
Easy Mince Pies
Yield 12-24
Simple and easy mince pies for Christmas! You can use any cutter and the number of mince pies will depend on the size and the depth of your tin.
Ingredients
225g Unsalted butter, cold
350g Plain flour
100g Caster sugar
Mincemeat - 1 large jar, approx 400g
2 tbps Milk
Icing sugar, to dust  
Instructions
Cube the cold butter, and add into a food processor, with the knife blade attachment. Add the plain flour, caster sugar and pulse until everything is combined into a crumb. Alternatively, add the ingredients into a large mixing bowl, and rub the butter into the flour and sugar.
Add the milk to the pastry mixture, and mix until it starts to clump. Don't let it get too wet.
Turn the pastry mixture out onto a work surface and continue to combine together until it forms a ball; then knead gently.
You can either use the pastry straight away, but I chill it in the fridge for 30 minutes or overnight.
Preheat oven to 180 deg C, for fan-assisted. You can either use a shallow bun tin or a muffin tin, for deep filled mince pies; you'll just need a larger pastry cutter.
Lightly flour the work surface you will roll out the pastry on. Roll out the pastry until about 2-3mm thickness or the thickness of a £1 coin. 
Cut out discs of pastry with a 9-10cm round cutter, if using a standard bun tin, and line the tin with the pastry discs. You should get about 24 discs out of the pastry, depending on thickness and the size of cutter you used.
Add a heaped teaspoon of mincemeat to each pastry case and spread it out a little, until smooth.
Roll out the remaining pastry and cut out smaller discs, or stars if you like to see the mincemeat bubble up, and top the pastry cases with the lids. If you are covering the mincemeat completely, gently press down on the edges to seal. You can also decorate with different shapes cut out from the pastry, I used a holly cutter and rolled little balls for berries.
Beat a small egg and brush over the tops of the mince pies.
Bake for 20 minutes until golden.
Leave the mince pies to cool in the tin for 5-10 minutes, before removing them and placing on a wire rack to cool completely.
Lightly dust with icing sugar, or add brandy cream, custard or ice cream to them and enjoy!
Notes
The mince pies will keep for 3 to 4 days in an airtight container.
If you like to be prepare ahead for your Christmas baking, once the mince pies are topped and brushed with egg wash; they can be frozen in the tins for up to 1 month.
For deep-filled mince pies, you can add a tablespoon of fresh custard to the pastry case before adding the mincemeat for a little added filling.
Are you making this recipe?
I love to see your creations so snap a photo and tag @crumbscorkscrews on Instagram with the hashtag #crumbscorkscrews and please give a star rating below ★
As I'm getting back into the swing of things, I'm sending these mince pies over to Recipe of the Week at A Mummy Too.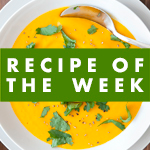 8