…is not devouring all of these blondies in one sitting!
I'm a bit behind this week with my baking; to be honest I've a couple of days off but I'm feeling revitalised and my bake is well and truly back on.
After the huge chocolate hit of the chocolate, caramel and Oreo tarts earlier in the week, I thought I'd go for something a little lower down the calorie scale. I had planned to be a little adventurous and make 'Twix' inspired macarons; alas they were a disaster of epic proportions. Admittedly it was only my second attempt, the whole learning to walk before running thing never rang truer.
So with the macarons ditched, there was really no rescuing them; I decided to go for something a little on the less involved side of things. As usual there was a few bits and pieces lurking in the fridge that needed using up – raspberries and blueberries from a wedding cake, that I thought I could throw in the mix. Originally I'd been thinking of making brownies again, it had been a while, but with the earlier chocolate-fest, I really couldn't face them.
In walks Blondie!
Now you know I don't mean Debbie Harry, but I'd be lying if I said, I hadn't got Maria going round my head whilst I was making these!
These are lighter cousin of the brownie. They're not as gooey as a brownie, it's still chewy and can be a little more cake. With the leftover raspberries and blueberries mixed through, they've got a little squish to them. I couldn't bear to leave them chocolate free so I chucked a handful of chopped white chocolate in there, because… well, why not!
Trust me when I say you can whip these up in no time, without too much mess, no melting chocolate, and you can claim that they are healthy-ish; they do have fruit in them!
Raspberry and Blueberry Blondies
Yield 24 Blondies
A classic silky smooth blondie full of fresh raspberries and blueberries, with white chocolate pieces.
Ingredients
225g Unsalted butter, melted
100g White chocolate, chopped
225g Caster sugar
4 Eggs, medium
225g Plain flour, sifted
1 tsp Baking powder
1 tsp Vanilla extract
125g Mixed raspberries and blueberries
Instructions
Preheat oven to 180C.
Grease and line a brownie tin or a baking tray, approximately 24cm x 22cm.
Melt the butter in a small pan until golden. Add half of the white chocolate and put aside to cool.
In a large mixing bowl, add the caster sugar and eggs. Whisk together until pale and fluffy.
Add the plain flour, baking powder, vanilla extract and the melted butter and white chocolate.
Fold the mixture until all ingredients are combined. Add the raspberries, blueberries and the remaining white chocolate and gently fold in, being careful not to break the fruit.
Pour the mixture into the lined baking tray and smooth over with a palette knife.
Bake for 30-35 minutes until golden.
Cool completely, then cut into square.
Notes
Will keep up to 4 days in an airtight container, or can be frozen up to 1 month.
Substitute the raspberries and blueberries for seasonal soft fruit; blackberries work really well.
Are you making this recipe?
I love to see your creations so snap a photo and tag @crumbscorkscrews on Instagram with the hashtag #crumbscorkscrews and please give a star rating below ★
I've decided to send raspberry and blueberry blondies, as my recipe for a traybake inspired by this week's Great British Baker Off, to the Great Bloggers Bake Off, which involves creating your own version of the recipes featured on GBBO. Week 5 is Traybakes and Biscuits. It's ran by The Crazy Kitchen and Mummy Mishaps and you can read more about it here.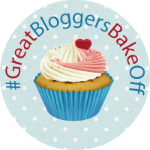 0