Happy New Year and welcome to 2018! Hello to the days getting longer, warmer and summer holiday planning. Ahhh, I'm not wishing the year away when it's only just begun and I do love Christmas, but I'm a summer sun kind of girl who loves to feel the warmth on the back of my neck, whilst digging her feet deeper into golden sand. Sigh. So when Thomas Cook Airlines got in touch with their calendar to all-year-round sun destinations, I lost myself in holiday planning for the next 12 months. I'd give anything to go back to the beautiful and peaceful Maldives, but with my birthday jaunt to the Harry Potter Studio Tour in mind, it was Orlando that caught my eye. The sun, the warmth, the fun, Disney, Universal and the food!
When you think of American food, what springs to mind? Man vs Food portion sizes on epic scales, ribs, burgers, fast-food and takeaway? I suppose that's the image we are bombarded with, but there's so much more than that. Although it's a while ago and my memory isn't like it used to be, I remember catching up with friends and diving into some fabulous grilled seafood when we were last in Orlando and fresh sun-kissed zingy fruit for breakfast.
With the last of the (open) Christmas chocolates being devoured before the door on 2017 closes, I won't be the only person out there that's about to give the new year health kick a go. I'll put my hand up to being one of those who loves their food far too much to stick to that health kick for any longer than a month. The thing I find is, I end up eating the same thing and get bored, so on the quick supermarket dash before the new year, with shoppers piling their trolleys just as full as they did for Christmas, I spied some fabulous king prawns and I whisked myself away, back to Orlando.
Taking inspiration from the Thomas Cook Airlines calendar and the amazing food we ate in Orlando, I raided the fridge in my head checking off potential ingredients, and then skimmed past the fruit aisle and grabbed a couple of juicy mangos. Any leftover fruit was already being mentally chucked into the Froothie to whizz up my favourite mango smoothie for breakfast; keeping those interesting, healthy options open.
I know that shell-on prawns aren't everyone's cup of tea, and there's that funny lemon soup that they serve in restaurants when you order grilled prawns (kidding I know it's a finger bowl), but they really are pretty simple and quick to prepare. Shell-on grilling or barbecuing means that the flesh is protected and they don't curl up into tight little prawns, plus it makes your dish more interesting to look at and someone is bound to pop a head on their finger and recreate Fingermouse.
The rest of the dish is just as quick to pull together, and you could mix up the fruit a bit; the mangos could take a little grilling too, and a handful of pomegranate seeds would add some jewel bursts as well. I also fancied adding some grilled asparagus; stick it on the grill at the same time as the prawns and it will all be ready at the same time. Perfect!
Sitting here on New Year's Eve, watching the darkest Harry Potter film (The Deathly Hallows, in case you were wondering) I think this "throw it together, and see what happens" recipe captures the vibrancy and taste that I had been looking for.  I'm pretty certain it would go down well at our annual summer gathering, or a long, warm evening with friends around the barbecue. What do you think?
Edit… I've made these a couple of times so far this year and we're only mid-January, but I'm just loving them and my new camera baby too; my Canon EOS-M10, I had a little impromptu selfie session with it the last time I gave these grilled prawns a go. Thanks Thomas Cook for the inspiration and my apron
Print
Grilled Prawns with Mango Salsa
Yield 4 servings
Bright, fruity and simple to prepare, this grilled prawn recipe with fresh mango salsa is perfect for a light, healthy lunch or a summer's evening barbecue. Add a little jazz with pomegranate seeds, asparagus or sugar snap peas.
Ingredients
16 King Prawns, shell-on
1 Mango
1 Red Onion
1tbsp White Wine Vingear
1tsp Fish Sauce
1 tsp Caster Sugar
1 Red Chilli
1 Garlic Clove, finely sliced
1 Lime, quarters and juice
Instructions
In a small bowl, add the white wine vinegar, fish sauce, caster sugar and 1 teaspoon of fresh lime juice. Mix together until the sugar has dissolved.
Remove the mango flesh from the stone, peel and cube. 
Finely slice the red onion and red chill. 
In a bowl, mix together the mango red onion, chilli and 1 teaspoon of fresh lime juice.
Heat your grill or griddle pan until very hot; or make sure your barbecue is ready to use.
Pat the prawns dry with kitchen towel, then brush either side with a little oil, and place on the grill.
Grill the prawns for 4 minutes, turning over halfway through.
To serve, place the mango salsa on a place, drizzle with the dressing, top with the prawns and sliced garlic.
Notes
Add grilled asparagus or sugar snap peas for added crunch, or pomegranate seeds for fruity bursts; or serve with rice noodles for a main course alternative.
Are you making this recipe?
I love to see your creations so snap a photo and tag @crumbscorkscrews on Instagram with the hashtag #crumbscorkscrews and please give a star rating below ★
Pin this recipe for later…
This post was a sponsored post collaboration with Thomas Cook Airlines and part of their "Where is Hot" campaign. Find more winter sun inspiration on their website at Where is Hot.
Happy new year over on A Mummy Too's 1st Recipe of the Week of 2018: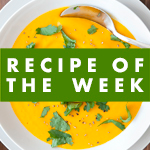 6