Now this wasn't intentional. I haven't even watched this week's episode (edit: I have now) But from a glimpse at my Twitter timeline, apparently there was good old trifle on this week's Great British Bake Off. I've had these photos ready to go for a few days, and I've just had chance to write the rest of the post up. So, are these little "trifllettes" (yes that is now a word) 'on trend'?
Whilst there are still whispers of 'Custardgate' in the air, I can guarantee that there is no stolen custard, or regular custard, in these little trifles (edit: gutted for Howard that his fabulous custard was snatched from under his nose, it was clearly in another part of the fridge to Deborah's). Gasp, shock, horror! A trifle without custard! Oh and whilst I'm being a heathen, there is no jelly in them either. Hence triflettes, as they are not quite a proper, grown up trifle… but they could be if they wanted to be.
They are in fact very quick, "lets grab what is going spare and put it all together to see what you get" trifles.
I make a lot of cake, and lots of cake making, means lots of cake offcuts. From levelling to carving, there is always a box of offcuts lurking in the cupboard. As I when back to Weight Watchers this week, they'll be making their way further to the back of the cupboard so I can't see them. I could get rid of them but I hate to see good cake go to waste, and Ian would be mortified if I was to put cake in the food waste bin. Also over the summer, there's been plenty of tiered Victoria sponge cakes in the diary, which means there's plenty of summer fruits going spare as well. Add them together with a few other bits and pieces from the store cupboard and there you go…
Oh before I tell you how it all goes together, there's those two glaring trifle omissions, custard and jelly, to talk about.
Well, I prefer to make fresh custard so there's no Birds or ready-made custard in the cupboard or fridge. Although, I'm rather partial to custard made with Birds powder; I went through a phase in my early 20s aka the uni years, when it was pretty much an everyday staple. Worse still, it was the just add boiled water instant kind as well. Don't fret though, there is a kind of custard element – very soft, almost custardy vanilla ice cream.The jelly side of things, ready-made jelly in a pot that has been on the supermarket shelf for ages really isn't the most pleasant thing going. Enough said.
All said and done, they're pretty simple, easily adaptable, not the most culinary dessert ever but these triflettes do the job!
Cake Offcut Triflettes
Yield 4

These triflettes are not quite a proper, grown up trifle... but they could be if they wanted to be!
Ingredients
Maderia cake offcuts
4 tbsp strawberry jam
Handful of strawberries
2 kiwi fruit
50ml double cream
1 tbsp icing sugar
4 scoops vanilla ice cream
Dark chocolate, for grating
Instructions
You'll need 4 water glasses or small tumblers to put everything together in.
Take the vanilla ice cream out of the freezer to soften whilst putting the triflettes together.
In a mixing bowl, whisk the icing sugar and double cream until it is just starting to thicken, but not runny.
Using a round pastry cutter that is just a little smaller than the diameter of the rim of your glasses, cut 8 rounds from the cake offcuts.
Place one cake round in each of the 4 glasses, and layer with a tablespoon of strawberry jam.
Place another cake round on top of the jam, and layer in the strawberries and kiwi fruit.
Add a scoop of the softened vanilla ice cream on top of the fruit.
Finish with a large tablespoon of double cream.
Grate the dark chocolate over the top.
Notes
These cake offcuts could be made with any flavour cake offcut, especially chocolate or lemon. Switch the strawberry jam for a chocolate spread or lemon curd. Add different fruits depending on the season, and swap the vanilla ice cream for a different flavour.
Are you making this recipe?
I love to see your creations so snap a photo and tag @crumbscorkscrews on Instagram with the hashtag #crumbscorkscrews and please give a star rating below ★
I've decided to send my triflettes, as my take on the trifle recipe from this week's Great British Bake Off, to the Great Bloggers Bake Off, which involves creating your own version of the recipes featured on GBBO. Week 3 is Desserts. It's ran by The Crazy Kitchen and Mummy Mishaps and you can read more about it here.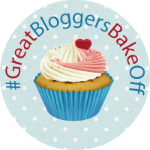 0